Design Technique
---
At Elimindi, we design garments utilizing the French draping technique. Draping the textile on a mannequin allows us to see how fabric sits on the body – front, side, and back. Our mannequin was custom made in the form of a real woman's body - not designed on a computer screen. We make several patterns for each garment in all size ranges to insure the best fit. Typically, manufacturers create one pattern and size it up or down for more sizes. This can result in garments that are not proportional and fit poorly.
Materials
---
We select specialty textiles custom loomed in small batches just for us. Working directly with mills in California and New York, we choose fabrics based on how they drape, feel, breathe, and wear. We use materials with higher thread counts (fiber threads per square inch) for superior quality.
Color Selection
---
We engage in an extensive color selection process to choose the most complimentary colors. We partner with the dye house to test how the colors work with our fabrics, prior to custom dying the lot.
Fit and Testing
---
Multiple sample garments are created and fitted on real women. Then it's time for the life test. During this period, the garment is worn and laundered frequently. With the feedback we receive edits are made and the garment is finalized for production.
Manufacturing & Production
---
We are pleased to work with small, independent manufacturers in the USA. We are committed to ethical manufacturing practices. Our production team has regularly scheduled breaks, an air conditioned/heated work space and are treated with dignity. This significantly exceeds global apparel manufacturing standards. The dyes used in our fabrics meet EPA regulations, which far exceed global requirements. We consistently seek to partner with producers who act with integrity.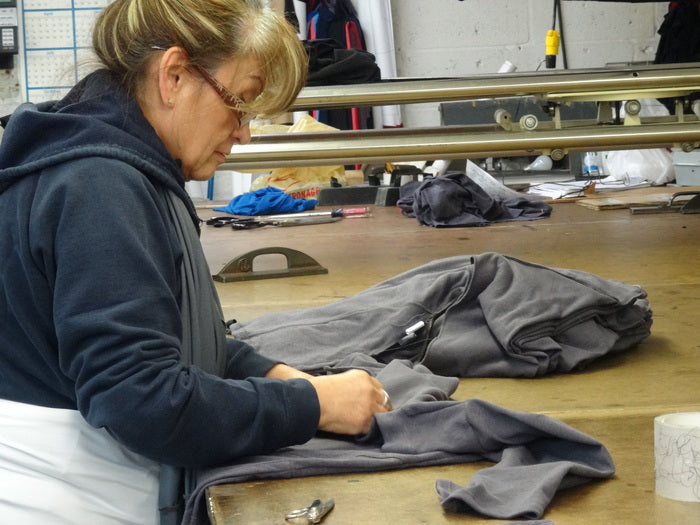 Your Garment is truly made in the
USA
Six small businesses worked together to produce this garment.
Our Cutting and Sewing Factory
---
For over 25 years Frank and Diane have owned and operated their apparel manufacturing facility in NJ. Providing the highest quality workmanship, Frank custom makes each pattern while Diane offers design insights. Attention to details such as proper stitch length, high quality threads, and expert cutting make this production team exceptional. Many of their employees have been with them for over 20 years.